Incorporation / Décorporation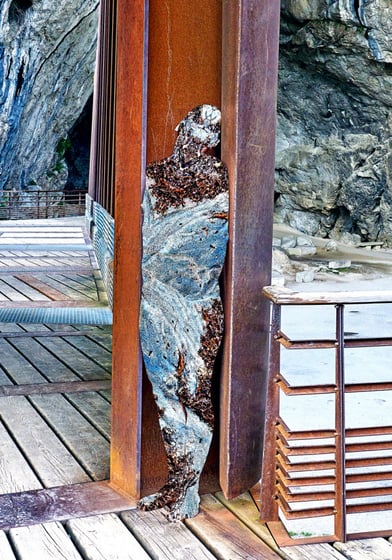 Cette série a été réalisée sur plusieurs mois en 2017/2018 puis continuée en 2021. J'ai commencé par faire des photos de mon corps en Ariège avec en tête l'homme de Vitruve de Léonard de Vinci, le Pentacle symbole de perfection et d'harmonie et des postures de mort subite observées à Pompéi dans un voyage précédent. Ces dernières m'ont tout particulièrement intéressé par leurs côtés expressifs et picturaux, en référence à Egon Shiele. Tous les autres éléments utilisés sont d'origine organique. Ce sont des photos issues du fleuve Garonne que j'ai effectuées à une certaine époque de l'année, quand les mousses sur les galets immergés sont naturellement colorées, ainsi que des plantes sauvages photographiées dans la nature.
This series was carried out over several months in 2017/2018 and then continued in 2021. I started by taking pictures of my body in Ariège with Leonardo da Vinci's Vitruvian Man in mind, the Pentacle symbol of perfection and harmony, and postures of sudden death observed in Pompeii in a previous trip. These last ones particularly interested me by their expressive sides and pictorial with reference to Egon Shiele. All the elements used are of organic origin. These are images of the Garonne (France) that I made at a certain time of the year, when the moss on the immersed pebbles are of natural color, as well as wild plants photographed in nature or in saline.