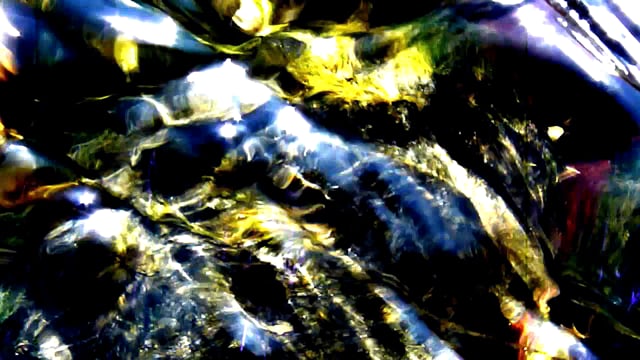 KAIROS Instant propice Opportunité à saisir
L'idée de cette série a commencé à germer en 2017 près du fleuve Garonne à la suite d'une rêverie sur ses berges. Il m'a fallu revenir au même endroit les deux années suivantes pour compléter et affiner les prises. Ce lieu est unique, il ne livre ses trésors qu'à une certaine époque de l'année quand toutes les conditions sont réunies. Les couleurs sont naturelles, elles sont produites par des micro-organismes qui vivent sur les galets et qui se développent à la fin de l'été quand le niveau de l'eau a baissé et qu'il a fait chaud pendant plusieurs mois. J'aime cadrer sur le vif mon sujet, et j'ai dû faire parfois quelques acrobaties dans le flot du courant pour arriver à mes fins.
KAIROS Opportune moment Opportunity to seize
The idea for this series began to germinate in 2015 near the Garonne River following a daydream on its banks. I had to go back to the same place for the next two years to complete and refine the catch. This place is unique, it delivers its treasures only at a certain time of the year when all the conditions are met. The colors are natural, they are produced by microorganisms that live on the pebbles and that develop at the end of the summer when the water level has dropped and it was hot for several months. I like to frame my subject on the spot, and I have sometimes had to do some acrobatics in the flow of the current to achieve my ends.